ABOUT US

Alliant is a
leader in
global
transportation.
We transport
freight, coal, oil,
gases, chemicals,
equipment and
personnel,
primarily
for the oil,
coal, industrial
and technology
industries.
Alliant provides
freight services
to corporate
and government
clients.
Alliant was
acquired in
2001 by the
Bell North
America
Corporation.

COPYRIGHT
2006

EARLY HISTORY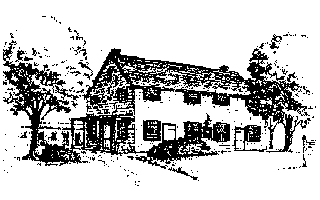 This is the original stable house (rear) and cookhouse (foreground) of the Queens-Friendly Stagecoach Company, the merger of Queens Coach Ltd. and Friendly Coach Co., two businesses of uncertain origin that came to America with the Quakers and the Colonists. Friendly Stagecoach was the largest overland people mover and cargo transportation business of its era, founded in "the West fields" in 1700. Viewed above, "Friendly Stagecoach" was originally located on the property where Muhlenberg Hospital can be found today in Plainfield, New Jersey. This image was hand drawn in 1849 by John Kennedy's wife, Mary Jane Kennedy, a renowned artist of her day after her husband bought the floundering Stagecoach company upon the advent of the Railroads. The foreground building still stands, and is used as a caretaker's residence for the grounds of the hospital facility. Muhlenberg Hospital was built partly from a grant and property donated by modern era descendents of John and Jane Kennedy. The Kennedy Family resided in what is called Fanwood, New Jersey today, but at the time was part of Westfield, New Jersey which at the time extended from Elizabeth, New Jersey all the way to Somerville, New Jersey.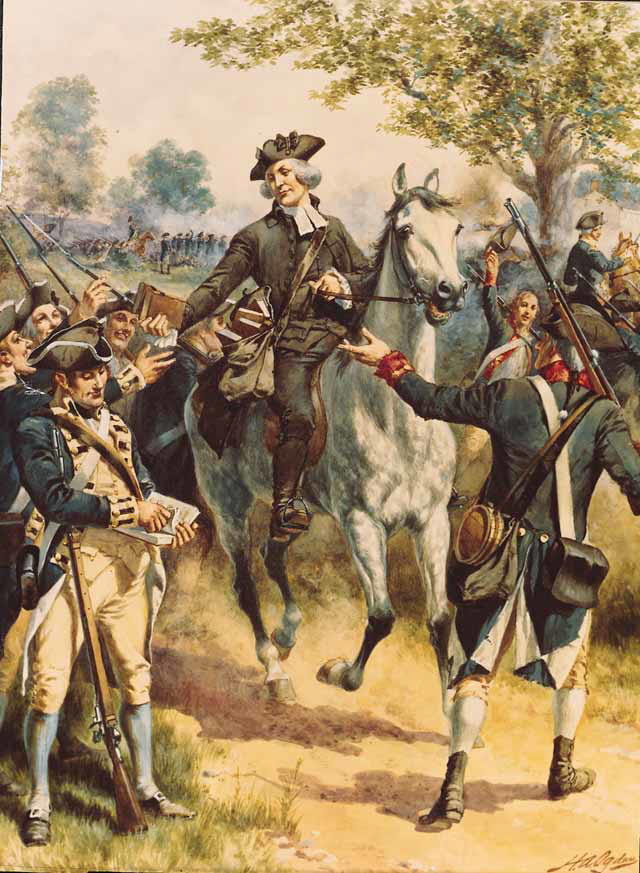 Local residents under the command of General Nathaniel Greene fought, held off and defeated the British Recoats during the Revolution in "the West Fields" at "the Battle for Spring Field" in June of 1780 (today, the part of Westfield which became Springfield, New Jersey). This key battle was later determined to have turned the tides of the Revolutionary War in the favor of the Colonists as the British lost their one and only chance to decimate and disburse the Colonial Army under George Washington. Friendly Stagecoach served as a primary provider of labor, coach and wagons to the Colonial Army after being commissioned as the first military transportation service. It was there that the original "White Star" and "Blue Star" logos, our freight and people transportation symbols, were born during the Revolution. We marked our Military Transport Coaches and Wagons with a single Blue Star, and our Cargo Wagons with a White star. Eventually, our Blue Star Logo was adopted by the Military Transportation System with our gratitude, and was also used to memorialize the men and women who served and who died in service to this country during World Wars, as was the Blue Star Memorial Drive, a combined highway and nature path which runs throughout the USA. We were enlisted by General George Washington who stayed in Westfield much of the Revolution living on the lands of the Ludlow Estate which family pioneered the development of Coal as an energy source for the colonies after the war. The Ludlows used Friendly Stagecoach's wagon trains to move coal much of the 18th century.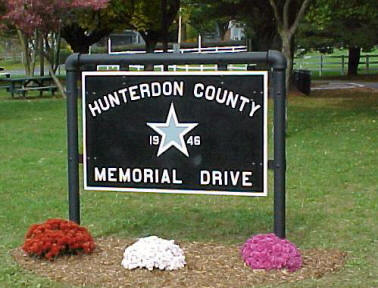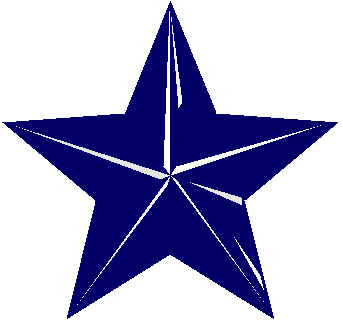 The Friendly Blue Star, now a memorial in gratitude to all who've served this country in time of war, adorns highways and parks all over the USA.
From 1847 Forward
Located in Plainfield, New Jersey, in 1847 after a 150 year history as the Queens-Friendly Stagecoach Company, our company was operated by famed cargo hauler John Kennedy and his brother, Franklyn. With the arrival of Railroads into Central NJ, Stagecoaches became obsolete for main line transportation. But the Kennedys had a better idea for Railroads and Stagecoaches: move freight between NY and surrounding communities as far south as Trenton and West to Scranton, PA, then offload it onto their own Stagecoaches and Wagons and transport it to end buyers. The resulting family dynasty, among other things, helped to build the Central Jersey Railroad, and funded the development of the famed Aldene rail yards and the Jersey City Rail Yards.

In an effort to expand the company, the brothers first changed its name to "Middlesex and Somerset Traction Company" until in 1900, they opened up their own cargo rail line from Somerville NJ and New Brunswick, NJ to Jersey City, NJ. From 1847, the company primarily carried cargo, coal and equipment to and from the Port of New York, Newark and New Jersey and to and from the Port of Perth Amboy, to the River Roaders of the Delaware Raritan Canal along the Raritan River and the Morris Canal in Stanhope, New Jersey, and provided on-loading and off-loading for various commercial shipping companies and major businesses such as Singer, the world's largest manufacturer. In 1900, the company and local railroaders got together to expand into rail on an investment of $3,000,000, a huge sum in its day.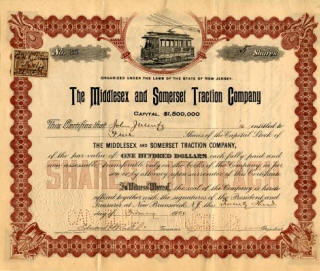 An Original Middlesex and Somerset Traction Company Stock Certificate
The Public Service Period
In 1907, the company was purchased by the Public Service Railroad and Gas Company, the largest rail line in the country at the time, and the largest gaslight supplier in the New York, New Jersey area. Today PSR&GC has split in two, a part of Conrail (which includes the original Jersey Central RR) and a part of PSE&G (Public Service Electric and Gas).
In addition to moving cargo by coach and rail, the company opened a plant in Cranford, NJ around where the famed Cranford Roundhouse had been built. We were in the business of building rail cars, and were highly successful at devising innovative rail cars that we sold to many railroad lines, innovative designs that could move freight, logs and other goods, and cars which also used an invention that made its original Kennedy Family wealthy in the 19th Century. This revolutionary invention - a spring activated coupler for rail cars that could be decoupled using a lever built into the rail tracks, allowed yard managers to unhook and hook cars remotely using cable lines and telegraph signaling, where previously everything had to be done manually using massive crowbars and "herders" - freight men who risked life and limb to separate rail cars.
Back then during the early part of the 20th century, our company was also know for investing. We became the primary financial backing for a young scientist and inventor by the name of Guglielmo Marconi, who had developed a rail based Morse control system for rail yard signals. With Marconi, we opened the very first radio station and the first radio manufacturing business along our freight line in Roselle Park, NJ, in a joint venture with Westinghouse Corporation begun in 1920, even before Marconi's first public announcement of his discoveries at the American Institute of Radio Engineers in NY.

Guglielmo Marconi
The radio manufacturing business, Marconi Radiotronic was later reunited with a sister company in Italy after WWII. Our joint venture Radio Station and R&D company in Roselle Park was acquired by what became the RCA Corporation only two years after it opened and adopted the RCA name, leaving young Marconi to continue his research work. Moved to NYC, the Station was renamed "the National Broadcasting Company" or "NBC" for short. The remaining transmission facility at our plant in Roselle Park, NJ we renamed "Columbia" (after the "Columbia Line" rail adjacent to the property) and was sold the following year, moved to NYC and become "the Columbia Broadcasting System" (CBS), after selling us back the premises no longer needed by the new company.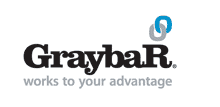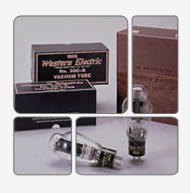 The remaining facilities in Roselle Park were eventually acquired by our partner in Radio/Morse for Railroad and Track Gray and Barton (Graybar) Telegraph company, a company also known as Western Electric, which became part of the AT&T Corporation later on. The Radio Plant (as it was called), which we retained a partial interest in during multiple co-owners, was used by Western Electric to experiment with Vacuum tube development for telephone and radio and led to the development of the American Broadcasting Company and audio equipment used extensively in Hollywood and on AT&T's telephone network. Eventually, after we sold the Radio Plant off altogether, it was bought and renovated by a Textile and Rag Recycling business which resides there to this very day.
As to the other partners in this joint venture: Marconi's UK/Italy based Marconi Company was also able to continue on, eventually merging with English Electric and today, owned by Ericcson (which some say is a GE Company subsidiary). General Electric Company in later years acquired Marconi Corp and reabsorbed RCA Corporation (founded by Westinghouse, however Westinghouse later on capitulated and sold out to GE) sans the Marconi name. Telent plc owns the balance of Marconi, as divested by GE.
A portion of our company was invested in by prominent industrialist John D. Rockefeller, an investment he would leave to his children and grandchildren, made in 1908, entitling the Rockefeller family to a semi-annual dividend payment that fostered the development of several other businesses the Rockefeller family asked us to reinvested in from 1908 to 1968 as part of an ongoing cross-investment program. Among these investments were the Chase Manhattan Bank, Citibank, Lockheed Corporation, Boeing Aircraft, Bank of America, AT&T, Hughes Tool Company and many other companies and real properties. Divested during the late 1960's by the Rockefeller Group, owned to this day by a group of private investors from NJ, these investments are managed by our parent company: Bell North America Corporation.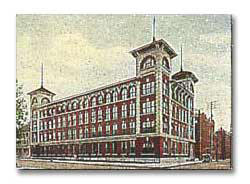 An early depiction of our headquarters as part
of the Public Service Railroad and Gas Company
We Become Independent

Our company was dubbed: The Queens Stage Coach, Rail and Cargo Company, after the business was divested by Public Service in 1929 during a time period when Public Service was subjected to enormous public pressure and regulatory scrutiny as it approached monopoly proportions. From 1929 to 1949 Queens SCRC Company was operated by the great grandson of its founder, Mr. Thomas Kennedy. Thomas's great grandfather, John, was a distant cousin of the great-great grandfather of former president John F. Kennedy.









In 1929, the Queens Stagecoach, Rail and Cargo Company moved to Linden, New Jersey where it remained at the location of what is Linden Airport today, until 1968, changing it's name in 1930 to the Standard Cargo Company, a name which lives on to this day on some of our operations. Two of our 19th Century spinoff businesses, Standard Oil and Standard Service, both of which supplied maintenance and materials in the Rail and Stagecoach industry throughout the Civil War, had been purchased from the company by industrialist John D. Rockefeller and became among our largest customers. During the heyday of growth in the oil industry, we moved oil and materials on land and at sea for every brand oil company in the United States and were instrumental in helping oil companies trade with distribution companies. We also entered the Bus Transportation Business, founding the Blue Star Bus Lines, which eventually expanded throughout the USA before divesting during the 1960's, portions of which today belong to the Greyhound Bus Line, portions of which are independently operated.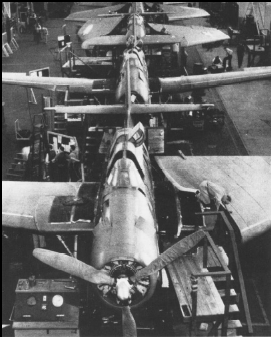 From 1929 to 1968 Standard Cargo Company was owner operated by a group of investors from Linden, NJ who backed Tom Kennedy. With transportation lines and trucking all over the US, our "White Star" branded shipping system was in extremely high demand, due to its record for safety and timeliness and has since expanded nationwide and globally as a separate company. The owners organized the Linden Queens Airport in 1929, as a subsidiary business, which during the war serviced General Motors as a departure point for finished GM Grumman Fighters and Fighter Bombers built at GM's Linden Plant.
During that time period, SCC moved steel and materials to GM, and other companies building war material for the US Government in addition to its main business.

From 1919 to 1968, SCC predominantly serviced the Oil and Coal Industries transporting equipment, Oil, Coal and personnel around the world, originally for Standard Oil of NJ and its affiliated companies. During World War I, SCC operated over a hundred vessels moving military personnel to England and France for the US Government and sustained heavy personnel losses. During World War II, SCC also played a key role in transporting nearly 70% of the material used for the Normandy and North African campaigns and the successful invasion of Germany, including the laying of nearly a million miles of track for the US Army Core of Engineers. Numerous SCC personnel became casualties of the war in Europe.
After WWII

SCC spun off its rail systems after WWII, in Europe to the governments of France, and the provisional governments elsewhere, and in the USA to New York Railroad, the B&O, and the Chessie System, and ended its Rail operations altogether. SCC has since expanded its global freight systems through the acquisition of 25 container vessels which are operated by Puerto Rico Marine and Sealand Corp (a CSX company) under contract. As of 1998, SCC changed its corporate name to "Alliant Sea-Freight" and in 2000 to "Alliant Freightways".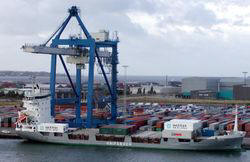 Alliant was acquired by Bell North America Corporation in 2001.

We are now known internally as Bell Alliant, and do business publicly as Alliant Express™ (Alliant X) and overseas as the Standard Cargo Company (ESCO). Our amazing growth in the past 20 years has led to our operating from over 350 offices around the world, and a corporate presence in over 12000+ business enterprises globally. As such, all of our business is done directly with our corporate clients and various parts of the global transportation interface. Our parent company has begun to invest significantly to modernize us, creating what is one of the largest independent freight moving, technology, communications and logistics business enterprises in the world, with record revenues of nearly $3.4 billion in 2004.

For more information about becoming an Alliant Express customer, call us at 908-272-0016.